US Vice President Joe Biden has said that China will sign on to new UN sanctions on Iran, and predicted new measures to punish Tehran's nuclear program could be agreed by the end of this month.
Biden also said in an interview with the ABC program "The View" that Israel would not mount a pre-emptive strike on Iran's nuclear facilities without the permission of the United States.
Washington has been trying to persuade key Security Council member China for months to accept toughened sanctions. Beijing has agreed to join talks at the UN on a toughened regime, but has yet to make its position clear.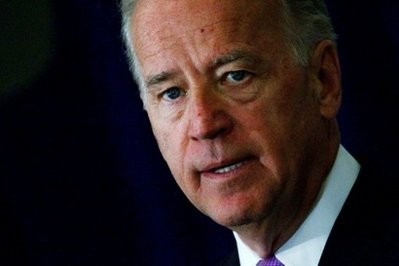 US Vice President Joe Biden has said that China will agree to a new round of UN sanctions against Iran over its suspect nuclear activities, despite having long held out against the move.
But Biden said: "China will agree to sanctions," on "The View" an ABC television show.
"This is the first time the entire world is unified that Iran is out of bounds... they are more isolated than they've ever been, with their own people and within the region."
Biden also gave a more explicit timeline on Iran sanctions than Washington has previously offered.
"I believe you'll see a sanctions regime coming out by the end of this month, the beginning of next month."
China has invested heavily in Iran's energy sector and filled the vacuum left by Western firms that have pulled out in the face of US sanctions and political pressure from US allies against companies doing business with Tehran.
Some of President Barack Obama's critics have argued however that the price for China's support will be watering down the sanctions, which will be far from the "crippling" set of measures that the Obama administration once sought.
Israel and the West accuse Iran of seeking to develop nuclear weapons under the cover of what Tehran insists is an energy program for civilian, not military, purposes.
Hopes that China would join sanctions against Iran rose last week after Obama met Chinese President Hu Jintao on the sidelines of a global nuclear summit in Washington.
Hu's entourage said after the talks that Washington and Beijing shared the "same overall goal" on Iran, after months of US efforts to secure Chinese cooperation on "biting" new sanctions.
Biden also used the appearance on "The View" to state that Israel, which has tense ties with the Obama White House, and which considers Iran an existential threat, would not attack the Islamic republic without US permission.
"They're not going to do that," Biden said.
"They've agreed the next step is the step we -- the president of the United States -- has initiated in conjunction with the European powers, the NATO powers, with what they call the P5+1."
The P5+1 groups the five permanent members of the UN Security Council -- Britain, China, France, Russia and the United States -- plus Germany.
"We're going to continue to keep the pressure on Iran," Biden vowed.
"They are not a monolith," he said about Iran. "They are a fragile government and they're some distance from having that capacity."
He also insisted that President Barack Obama's administration would be successful in preventing Iran from obtaining nuclear weapons.
"The president said our intention is to prevent Iran from getting a nuclear capacity," Biden said. "We believe we'll be able to do that."
The package of new sanctions, already endorsed by Washington's European allies, would include a full arms embargo, a ban on new investments in Iran's energy sector, restrictions on shipping and finance, and sanctions targeting the business interests of Iran's powerful Revolutionary Guards, sources said.
Diplomats say they expect weeks of hard-nosed bargaining before a text -- likely to be toned down to make it palatable to the Chinese and the Russians -- can be brought to a vote by the full 15-member Security Council.