A senior Chinese party member has proposed that the Vietnamese government further create favorable conditions for Guangdong province to double its investment in Vietnam to US$5 billion in the next three years.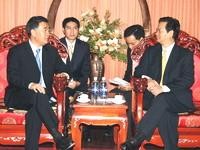 Prime Minister Nguyen Tan Dung (R) meets with China's Guangdong Party chief Wang Yang in HCMC Wednesday
The Secretary of the Guangdong Provincial Party Committee, Wang Yang, is on a visit to Vietnam. He made the proposal while he was received together with Guangdong businessmen by Prime Minister Nguyen Tan Dung in Ho Chi Minh City on September 10.
PM Dung affirmed that Vietnam's government agencies as well as localities have been always paying attention to and facilitating China's investment in the country.
Regarding important projects that Guangdong businesses want to invest in Vietnam, the PM said the two sides should discuss coordination to ensure that these projects will be implemented successfully for stable, sustainable and practical cooperation.
The government leader agreed with his guest's proposal to set up a regular dialogue mechanism between Guangdong and relevant Vietnamese agencies and localities to timely tackle obstacles and put forth useful measures for successful implementation of development cooperation programs.
The PM said he was delighted at the fact that Guangdong businesses have signed many important and feasible memoranda of understandings with their Vietnamese partners during this visit.
As Vietnam and China are friendly neighbors, Guangdong and Vietnam share many similarities that can serve as a premise for the two sides to enter a stage of more intensive and efficient cooperation in the future, he stressed.
According to the PM, progress has been made in the Vietnam-China trade and investment relations, but potential remains huge and much remains to be done to tap this potential efficiently and sustainably.
The government leader congratulated China on its successful organization of the 2008 Olympics Games, citing this as a special achievement that helps improve China's position in the international arena.
Guangdong's party leader expressed his pleasure at the fact that the two parties, states and people are jointly building and fostering the special China-Vietnam friendly and cooperative ties for the future and long-term benefits.