A delegation from the Chinese Communist Youth League concluded a nine-day goodwill trip to Viet Nam this morning after spending yesterday in Ho Chi Minh City, where the People's Committee held a reception in their honor.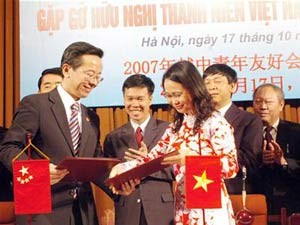 Ho Chi Minh Communist League Central Committee Secretary Doan Lam Phuong Thanh (R) signs a cooperation agreement with her Chinese counterpart Lu Yongzheng (L) (Photo: Tien Phong Newspaper)

Later in the day the young diplomats saw the sights of the city, toured the War Remnants Museum, went shopping at Ben Thanh Market, and visited the head office of Thanh Nien newspaper.

Earlier in their visit, which is an annual affair, they met with members of the Ho Chi Minh Communist Youth League in Hanoi, Quang Ninh and Khanh Hoa, learning more about Vietnam's voluntary youth campaigns and the role of Vietnamese youth in the process.

At the reception in Ho Chi Minh City, vice chairwoman Nguyen Thi Thu Ha told her guests that this year's Vietnam-China youth friendship meeting was a good opportunity for the two countries' young people to learn more about each other and promote cooperation between them.

In response, a senior member of the Chinese delegation affirmed the traditional bilateral ties between the two parties and peoples, and said the young people of Vietnam and China would stand side by side at all times and stay good neighbors, good partners and good friends.