China always attaches great importance to relations with Viet Nam in its foreign policy, said Chinese Ambassador to Viet Nam Hu Qianwen.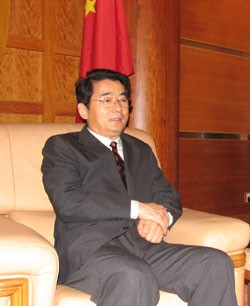 Chinese Ambassador to Viet Nam Hu Qianwen

The Ambassador confirmed this at a ceremony held in Ha Noi on Tuesday to celebrate the 57th anniversary of China's National Day (Oct. 1, 1949-2006).

The close relationship over half a century between the Communist Party of China (CPC) and the Communist Party of Viet Nam and between the two governments has entered a new stage of comprehensive development, the diplomat said.

The ambassador expressed his belief that frequent visits and meetings by Party and State officials would push up bilateral ties. He further said that Chinese President and CPC General Secretary Hu Jintao will visit Viet Nam in November and participate in the 14th APEC Economic Leaders' Meeting in Ha Noi.

Vietnamese Deputy Prime Minister-cum-Foreign Minister Pham Gia Khiem congratulated the Chinese Party, Government and people on their national day as well as the great achievements that China has achieved over the past 57 years.

He said that the Vietnamese Party, Government and people always place importance on boosting the friendship and cooperation with the Chinese Party, Government and people.

On this occasion, a Chinese festive night took place at Hoa Binh Opera House in Ho Chi Minh city to raise funds for the poor with the performance of artists from Guangxi province of China.