The news that vegetable sellers in China have been spraying cabbages with formaldehyde solution to keep them fresh in transit has sparked new food safety concerns, because some of it reaches the Vietnamese markets.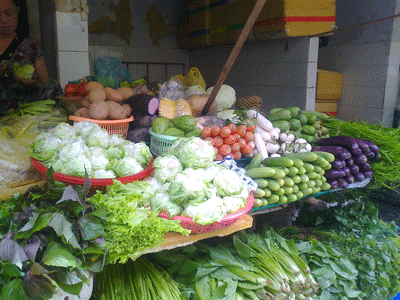 Most vegetables sold in traditional markets in Vietnam come from China (Photo: U. Phuong)
Vietnamese people consume large quantities of vegetables that are smuggled in or imported from China, with cabbage being a favourite as it is eaten in many kinds of soups in winter.
Trucks operating round-the-clock bring in cabbages, tomatoes and potatoes from border crossings in Lang Son and Lao Cai in the north to wholesale markets in Hanoi, the Northern Province of Vinh Phuc and to markets in the South.
After public concern grew following news of carcinogenic formaldehyde-preserved vegetables, Nguyen Xuan Hong, head of the Department of Plant Protection under the Ministry of Agriculture and Rural Development, said his staff has taken samples of vegetables from Hanoi and Ho Chi Minh City for testing and results will be released by next week.
Meanwhile, related agencies in the highland province of Lam Dong and the northern province of Lao Cai, two provinces that grow the most vegetables in the country, have tested local vegetables and confirmed that they contained no toxic substances.
However, Vietnam imports very little cabbage from China, only a few hundred tonnes a year, said Hong.
Despite Hong's assurances, Vietnamese consumers are still worried as the quality of imported farm produce to Vietnam still has no standard testing procedures and the laxity of export authorities has made smuggling of sub-standard items into the country possible, especially imported farm produce.
Moreover, the central highland town of Da Lat has a relatively small area of about 1,500 hectares for growing vegetables that can supply only supermarkets; consequently most of the vegetables in traditional markets come from China.
Cao Duc Phat, Minister of Agriculture and Rural Development, has ordered the Department of Plant Protection and the Department of Agro-Aqua-Fishery Quality Management to urgently test formaldehyde content in vegetables imported from China and release the test result to the media to calm down the public. Two departments have been asked to send their reports to the Minister before May 20.