An agreement was signed yesterday by the leaders of Ho Chi Minh City and Guangzhou City in China. The leaders pledged further cooperation in developing the tourism industries of the two cities'.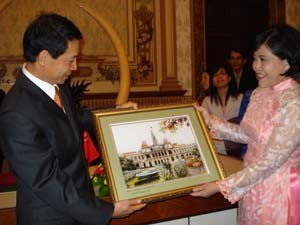 Deputy Chairwoman Nguyen Thi Hong gives a souvenir to Mr. Jian Liao, Vice Mayor of Guangzhou City, China (Photo: K.Hong)

The signing ceremony was held at the headquarters of the HCMC People's Committee. The signing ceremony was an important milestone to boost the two countries' bilateral cooperation to a new height which matches their potentials, a Vietnamese official said.

The two cities' leaders agreed that it was necessary to encourage their national tourism agencies to boost the exchange of information and experiences in tourism development and promotion. It was also promised to support and attend tourism events, to arrange personnel training with a focus on the developing the language skills of tourism workers'.

On behalf of the city's leaders, Ms. Nguyen Thi Hong, Deputy Chairwoman of the Ho Chi Minh City People's Committee, expressed her pleasure to welcome the Chinese delegation. She conveyed the wish for closer and more effective collaboration between the two cities in the future.

Mr. Jian Liao, Vice Mayor of Guangzhou City, thanked Viet Nam for its warm welcome and emphasized the trip was a good opportunity for China. It enabled the delegates to learn more about Viet Nam's development and thus, promote strong bilateral ties between the two countries.

Viet Nam has long become a popular destination for Chinese tourists. It is estimated that over 76,000 Chinese tourists visited Viet Nam last year and the figure increased to over 100,000 this year. The deal creates potential for Chinese tourism to grow even higher in the future and great opportunities for growth of both country's tourism industries.