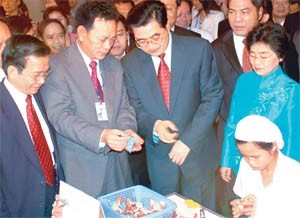 President Hu Jintao visits Matrix toy factory in the city's Hoa Khanh industrial park.
President of the People's Republic of China Hu Jintao and the first lady arrived in the central city of Da Nang on Wednesday, kicking off his official visit to Viet Nam for the 14th APEC Economic Leaders' Meeting being held later this week.
Upon his arrival to the city of Da Nang, Chinese President Hu Jintao led a delegation of senior officials from the Chinese Communist Party to visit the Hong Kong-based Matrix toy company's factory in Da Nang's Hoa Khanh industrial park. There are currently eight Chinese-owned enterprises with factories or other infrastructural components in Da Nang worth over US$ 102.2 billion.
Later the same day, Mr. Jintao met with government officials and business leaders from Da Nang. He was also in attendance for a banquet in his honor that was hosted by local leaders at the Furama Resort.
Speaking at the meeting, Secretary of the municipal Party Committee Nguyen Ba Thanh affirmed that the city of Da Nang would always work to accommodate Chinese enterprises interested in investing in, or setting up businesses in the city.
The Chinese president and his entourage will be led on a tour through the ancient town of Hoi An in the Quang Nam province today before leaving for Ha Noi to meet with more top Vietnamese leaders.
Early Wednesday, Prime Minister Nguyen Tan Dung appointed the Ministry of Planning and Investment to work more closely with the Chinese to add content to a memorandum of understanding (MoU) on the implementation of two industrial corridors in an effort to increase economic cooperation between the Vietnamese and Chinese governments.
The contents of this memorandum state: "Through a mutually beneficial agreement, China is supporting Viet Nam by investing in the construction of high quality railways and motorways in the industrial corridor. This is considered a significant step in achieving overall success in this cooperative effort."
According to the Vietnamese Ministry of Foreign Affairs, the two countries' leaders will issue a joint statement including the framework for bilateral economic cooperation before the Chinese president wraps up his visit to Viet Nam.