Twenty five fishermen, from Quang Ngai Province, who were taken by the Chinese safely returned home August 14, the province's Coastguard Headquarters said.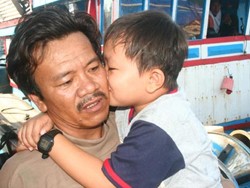 A fisherman from Quang Ngai Province is happy to return after being held by the Chinese (Photo: Tuoi Tre)
Twelve fishermen from the province's Ly Son Island were seized by the Chinese when they were fishing off the Paracels.
Thirteen other men from Binh Son District were detained when they were avoiding a tropical low pressure zone off another Paracel island.
After three days at sea, they arrived at Sa Ky Port in happiness on seeing their families.
On the same morning, a representative from the Vietnam Fisheries Association offered each fisherman VND2 million.
Nguyen Xuan Phuoc, deputy chairman of the Ly Son District's People Committee, said that the district would provide these fishermen's families with rice and assist them to buy new fishing facilities.