Many traders in the central highland city of Da Lat are selling Chinese potatoes as Da Lat homegrown potatoes to fetch a higher price and making it difficult for authorities to maintain a check on this consumer malpractice.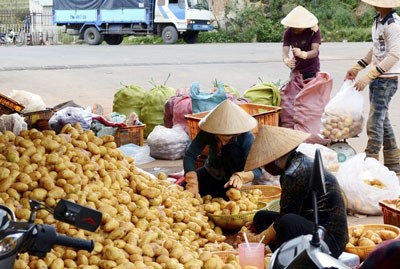 Chinese potatoes selling as Da Lat farm produce in the local market (Photo: SGGP)
At the Da Lat farm produce market in Trai Mat in Da Lat City, it is no secret how traders make Chinese potatoes appear to look like Da Lat potatoes.
According to one trader, the imported Chinese potato is first washed with water. Then some dry red mud is mixed with water to form a paste. The Chinese potato is soaked in this red mud paste and dried, before it is finally sold in the market in the guise of a Da lat potato.
These potatoes are then palmed off by traders to markets in Ho Chi Minh City and other provinces in the southern region as Da Lat homegrown potatoes, which fetch a higher price than ordinary Chinese potatoes.
Dang Mau Nhi, deputy head of the management board of the Da Lat farm produce market, said that authorities are rather confused as to how they can tackle this situation as there are no regulations in place to handle such cases.
Chinese potato is imported with proper customs documents. Traders admit that they use dried red mud to change the appearance of the Chinese potato, though they don't openly say they are selling Da Lat potatoes.
Nguyen Van Son, deputy director of the Department of Agriculture and Rural Development in Lam Dong Province, said that there is no legal basis to accuse the traders of wanting to change the outer appearance of the Chinese potato to look like the Da Lat potato, because the potatoes have no stickers on them. Hence it is passed off as a way of marketing their produce.
One way to be sure that they are actually Da Lat potatoes is to mark the annual harvest season which is between January and May.
The outer skin of Da Lat potatoes is very thin, but it is soft and tasty, while Chinese potatoes have a thicker outer skin and are hard and lack taste.