Chinese Premier Li Keqiang left Hanoi on October 15, concluding his three-day official visit to Vietnam at the invitation of Prime Minister Nguyen Tan Dung.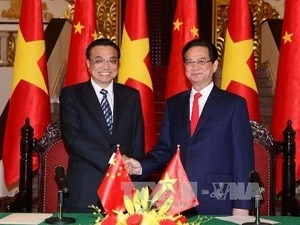 Prime Minister Nguyen Tan Dung (R) and Premier Li Keqiang meet the press after talks (Photo: VNA)
Earlier on the same day, the two Government leaders attended a Vietnam-China business exchange, which saw the presence of leading economic and financial experts and leaders of businesses from both sides.
Addressing the event, PM Dung said that economic, trade and investment cooperation between Vietnam and China has seen remarkable results. China is now the largest trading partner of Vietnam with two-way trade exceeding 41 billion USD in 2012, up 15.3 percent against the previous year.
In the first eight months of this year, the two countries' total import-export turnover reached nearly 32 billion USD, a year-on-year increase of 19.5 percent.
With this pace, the target of raising two-way trade between Vietnam and China to 60 billion USD by 2015 is feasible, he noted.
By September of this year, China had nearly 940 projects in Vietnam with a total investment of nearly five billion USD, ranking 12th among 100 countries and territories investing in the Southeast Asian nation.
As the two countries' economic, trade and investment cooperation has not yet matched their potential and demand, PM Dung stressed that Vietnam always supports and creates every favourable condition for Chinese businesses to boost investment, economic cooperation and trade with Vietnamese partners.
In addition to their potentials and strengths as well as bilateral cooperation frameworks, the Vietnamese leader suggested businesses pay attention to new opportunities arising from Vietnam 's participation in negotiations for the Regional Comprehensive Economic Partnership (RCEP) together with China and many other countries in the region.
Vietnam is also negotiating free trade agreements (FTAs) with the European Union (EU), the Customs Alliance of Russia, Belarus and Kazakhstan , and the Trans-Pacific Partnership (TPP) Agreement among others, he said.
These agreements will open up broad economic, trade and investment cooperation opportunities for not only Vietnamese businesses but also foreign ones, including those from China , he added.
Premier Li said that over the past time, bilateral cooperation between the two neighbours has seen fine developments in all fields, especially in economics, trade and investment, thanks to active contributions by both sides' businesses.
He stressed that China always attaches importance to fostering its cooperation with Vietnam and will do its utmost to join Vietnam's efforts to deepen their traditional friendship, expand mutually beneficial cooperation, and promote their comprehensive strategic cooperative partnership, for practical benefits and the common development of both nations.
China encourages and creates favourable conditions for its enterprises to boost trade and investment cooperation in Vietnam, he said, adding that his country always welcomes Vietnamese firms to do business in China .
Appreciating Vietnam's role and position in ASEAN, Premier Li expressed his desire to receive the country's support for China's policy of expanding economic, trade and investment cooperation with the regional grouping