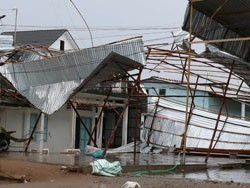 A house in Ba Ria Vung Tau province collapses after typhoon Durian hit the area.
Chinese Premier Hu Jintao and Laos Prime Minister Bouasone Bouphavanh expressed their sympathy on Thursday for the loss of life and property caused by Typhoon Durian earlier this week.
General Secretary of the Communist Party of China and State President of China Hu Jintao sent a message to General Secretary of the Communist Party of Viet Nam Nong Duc Manh and President Nguyen Minh Triet.
The message said: "As Typhoon Durian has caused heavy losses of lives and property for the people in Viet Nam's central coastal and southern regions, on behalf of the Communist Party of China, the Government and people of China, and on my own behalf, I would like to send you and via you to the Communist Party of Viet Nam, the Vietnamese Government, and people in the disaster-hit areas our deep sympathy."

On Thursday morning, Chinese consul general in Ho Chi Minh City Gao Te Ke presented VND32 million donated by his consulate's employees to the Department of Foreign Affairs.
On the same day, Prime Minister Bouasone Bouphavanh of the Laos People's Democratic Republic sent a message of sympathy for the storm victims to his Vietnamese counterpart Nguyen Tan Dung.