A fishing boat from the central province of Quang Ngai was chased and attacked by Chinese ships on May 7 when it was operating in the regular fishing ground in Hoang Sa (Paracel) archipelago, and suffered from damage to its sides and cabin.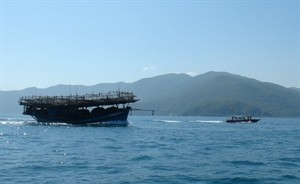 (Source: VNA)
According to Le Khuan, Vice Chairman of the fishing union of An Vinh commune in Quang Ngai province's Ly Son district, the boat QNg 96416-TS with 16 fishermen on board managed to return to Ly Son Island on May 9 morning.
The boat's captain and owner, Nguyen Van Loc from Tay hamlet, An Vinh commune, said the incidence happened when his boat was fishing at an area about 15 nautical miles south of Linh Con Island, an island in Da Nang's Hoang Sa (Paracel) Archipelago) and some 70 nautical miles east of the site where China illegally positioned its oil rig inside Vietnam's exclusive economic zone. A Chinese warship suddenly appeared, fired warning flares and demanded Loc's boat to stop. The fisherman said his boat had to snake its way to avoid the ship, but the Chinese vessel got closer and soldiers on board threw many heavy objects including hammers and big bolts at the fishing boat, breaking its cabin glasses.
Loc recalled that after nearly four hours of chasing his boat, the Chinese warship called in another - a vessel of the Chinese fisheries administration force – to help. The Chinese fisheries administration ship rammed into the Vietnamese fishing boat, breaking its right side and the wall of the cabin, and then went away. The Chinese warship remained at the site. Water began to flow into Loc's boat, but luckily, the crew members managed to repair some parts and get the boat back to the island.
Vice Chairwoman of Ly Son district People's Committee Pham Thi Huong said later that the Ly Son border station had made a record about the damage to the fishing boat estimated at around 300 million VND (14,280 USD).
Over recent time, there were many cases in which fishing boats from Ly Son Island were chased and harassed by Chinese ships in Hoang Sa waters and fishermen were taken captive illegally by the Chinese side, while their properties and catches as well as equipment on their boats seized.