A state councilor of the People's Republic of China visited Viet Nam from November 10-12 to prepare the way for his country's secretary-general and president, Hu Jintao, who will attend the APEC summit in Ha Noi.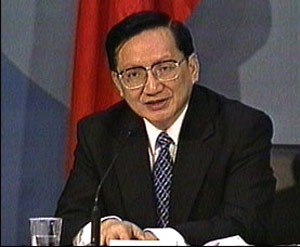 Chinese state councilor Tang Jiaxuan
Mr Tang Jiaxuan's visit was made at the invitation of Deputy Prime Minister and Minister of Foreign Affairs Pham Gia Khiem,

The other reason for his presence was to sign a memorandum of understanding to establish the Viet Nam-China Bilateral Cooperation Committee, which was done yesterday before he co-chaired the committee's first meeting alongside Deputy PM Khiem.

At the meeting, the two parties agreed on the need to boost the comprehensive friendship between Viet Nam and China in the spirit of an agreement reached by the two countries' leaders.

On the same day Mr Tang Jiaxuan and his delegation met with Viet Nam Party Secretary-General Nong Duc Manh, President Nguyen Minh Triet and Prime Minister Nguyen Tan Dung.