The Irrigation Construction Corp. No.4 under the Ministry of Agriculture and Rural Development yesterday started its work on blocking the Chu River at the worksite of Cua Dat irrigation and hydroelectricity project in Thanh Hoa Province's Thuong Xuan District.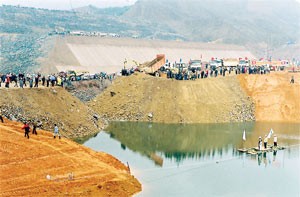 The Chu River is blocked to faciliate Cua Dat irrigation and hydroelectricity project
The state-level major project is aimed to regulate flood on the Chu and Ma rivers, to irrigate over 100,000 hectares of agricultural lands in the western districts of Thanh Hoa and to produce 500 million kW/h of power annually.
 
The country biggest dam with a height of 103 meters will be built with over 15 million cubic meters of stone.
 
The Ministry's VND4-trillion (US$250 million) project started in February 2004 and is scheduled to be finished in January 2009.