Many coffee growers in the Central Highlands province of Gia Lai are facing biological attacks from cicadas, a crop destroying insect, which are damaging coffee plants and threatening more than 200 hectares of coffee in Mang Yang, Chu Se, Dak Doa communes and the city of Pleiku.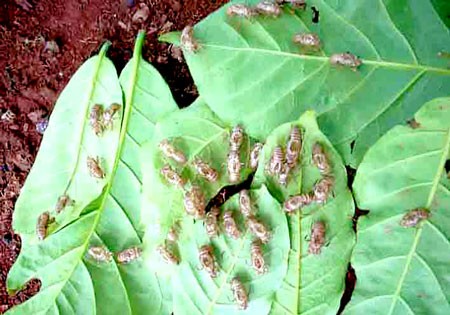 Large numbers of cicadas in Gia Lai Province are eating coffee tree roots, which makes the leaves yellow and fruits fall. (Photo: SGGP)
Coffee crops are expected to be ready for harvest within the next month or two, however, nearly 50 hectares of coffee owned by Dinh Xuan Cuong, from Chu Se, were attacked and destroyed by cicadas.
Cuong said cicadas have not attacked coffee plants for the last five years but there are large numbers this year. Although Cuong used insecticides to kill the cicadas it has proven ineffective, with cicadas continuing to attack tree roots and make the tree's leaves yellow and fruits fall.
Many households in Gia Lai Province are also facing cicada attacks, which are threatening hundreds of coffee hectares but province authorities have not yet found an affective prevention.
Le Van Tuan, from Chu Se, said cicadas attacked his coffee garden with a density of about 100 cicadas per coffee plant.
He said coffee growers protected coffee plants following their habits and experience, however, these, like the insecticides, have not helped either. 
The area of coffee being attacked is sharply increasing, with many growers afraid of devastating losses.
If coffee planters do not find prevention and annihilation measures soon, many will be ruined.
Gia Lai Province Plant Protection Department is checking damage of coffee plants as well as helping farmers carry out prevention measures.
Nguyen Van Tu, deputy chairman of the department, said cicadas have recently broke out in large numbers probably due to losing the local ecological balance, as farmers have used too many kinds of chemicals.
The chemicals have killed snakes, ants, spiders and bees, which are cicada's enemies.
Tu said that farmers need to maintain the numbers of ants because ants will eat cicada larvae and limit the use of chemicals.
Tu also said the department still did not have a cicada specific remedy that farmers can use which avoids creating environmental pollution.