Over the past few days, Viet Nam has warily watched typhoon Cimaron's direction as it was predicted to soon thrash central Viet Nam similarly to Xangsane in October.

Fortunately for the Vietnamese, the Joint Typhoon Warning Center of the US announced yesterday that typhoon Cimaron has changed direction to the north and now approaches the Chinese island of Hainan and mainland China.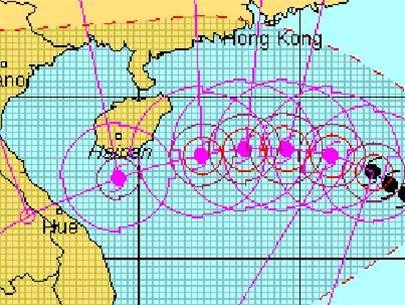 This photo shows the direction of typhoon Cimaron that is predicted to hit China instead of central Viet Nam
Last night, typhoon Cimaron suddenly shifted its direction north, 620 km from Hainan Island.
Forecasters originally said that Cimaron will move slowly west by northwest at 5 to 10 kph this morning and would be 480 km from Hainan Island by 4 pm this afternoon.
Over 24 hours, the typhoon will be moving a bit faster in a northwesterly direction causing severely rough sea in the northern section of the Eastern Sea, and will hit the Chinese peninsula of Lei Zhou Saturday morning.
The latest weather forecast has significantly changed from what was originally issued two days ago about the storm's landfall in central Viet Nam.
Despite the prediction that the Cimaron will not affect Viet Nam's central provinces, people in these areas are still bracing themselves for the possible typhoon strike.
In Da Nang city, over 12,000 people are in need of immediate evacuation. By Tuesday, around 90 percent of the registered ships had returned as a precautionary measure.
In Quang Nam province, more than 1,800 boats employing 9,500 fishermen came into port. Only the ship QNa-0898 has remained out of contact with the mainland.
Local officials have asked ship owners to break down their engines inside and set the ships deep in the water. This preparation should help the vessels free from suffering any acute damages. Tons of instant noodles, potable water and medicine have been delivered to the people in the mountainous region which will become isolated in the occurrence of flooding.
In the nearby province of Quang Ngai, over 730 ships carrying 4,700 people have anchored in ports, with another 100 boats en route to safe zones.
Hue has already deployed 3 warships, 10 canal boats, 10 cars and 600 soldiers to vulnerable regions for rescue work, especially to help troubled fishing boats and in the manufacturing of temporary storm shelters for the small crafts.