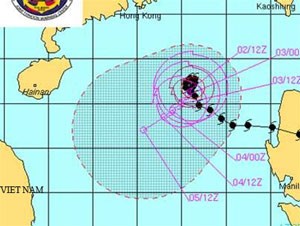 This morning's weather chart showing Typhoon Cimaron heading for Viet Nam
Typhoon Cimaron, which was moving towards mainland China yesterday, suddenly swung towards the southwest this morning and is heading for Viet Nam again, the National Hydrometeorological Center said.
At 9 am on Friday, the eye of the unpredictable storm was located 460 kilometers from the Paracel (Hoang Sa) Islands with wind speeds of 89 to 117 kph at the center.
Over the next 24 hours, Cimaron is predicted to travel southwest at 10 kph. By 4 pm tomorrow, it should be 330 kilometers from the Paracels.
The forecast for the next 48 hours is for the typhoon to continue moving southwest at 10 kph and possibly weaken a bit as it goes.
The winds in the northern part of the Eastern Sea reached Force 8, while close to the eye they were Force 11, generating eight-meter-high waves that are unlikely to abate before Sunday.

Yesterday, despite the prediction that Cimaron would not affect Viet Nam's central provinces, the local residents were bracing themselves for the worst.

Back on Thursday morning, the storm was moving northwest at 3 to 7 kph and was forecast to hit Hong Kong, Macau, Guangzhou and the island of Hainan.

Related Article:
Typhoon Swerves toward Hong Kong while Viet Nam Remains Scared