After a long period of illness, cinematographer Nguyen The Doan, the first cameraman who shot invaluable film clips of President Ho Chi Minh's daily life, passed away early August 12 at his home in Ho Chi Minh City, aged 98.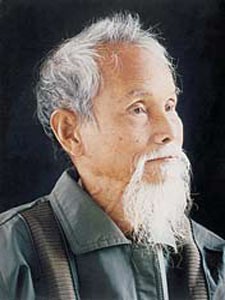 Cinematographer Nguyen The Doan passed away August 12 after a long period of illness, aged 98. (Photo: CPV Online Newspaper)
He was born Nguyen Van Nghiep in May 2, 1911 in Tan My village, Cho Moi District, southern An Giang Province, into a family of Confucian tradition.
During his childhood he showed aptitude for painting and photography and later focused his efforts in those fields.
With profound patriotism, and just 17 years old, he crossed the border to Cambodia to set up relations with Vietnamese revolutionary bases and began taking part in revolutionary activities.
He was admitted to the Communist Party of Vietnam in June 1930 in Phnom Penh, Cambodia.
Two months later, he was arrested for taking part in the raising of the Party's flag and was taken to Saigon Central Prison.
After release in March 1931, he returned to Chau Doc town, southern An Giang Province, and once again contacted the Party and continued his revolutionary activities in Rach Gia, the capitol of southern Kien Giang province.
In 1947, after completing a class of political training, he was seconded to teach photography to soldiers in Zone 9, where he was the first to shoot film clips of battles.

He was also one of the first military cameramen in Southern Vietnam and among the few Southerners engaged in the field of cinematography.

In 1950, he, along with his two colleagues, was sent to Viet Bac to shoot the second Party Congress, as there was no trained cameramen at the time. He was also assigned to shoot scenes of daily life of President Ho Chi Minh.

During his career, he had provided important technical initiatives to improve the quality of photographs and films.

He will be remembered for such films as "Mat troi len" (Sunrise), "Con vit boi" (Swimming duck), "Nha in khang dich" (Printing house against the enemy), "Xuong det Ngan Trau" (Ngan Tau weaving factory), "Trai Bo tuc quan su" (Military Training Camp), "Tran Bo Thao" (Bo Thao battle) and "Chien dich Soc Trang" (Soc Trang campaign), among others.

His documentary films, including those about the President's life, have been widely used by various news agencies and filmmakers, both at home and abroad.

In honor of Mr Doan's great contribution to the movie industry, as well as to the nation's struggle for independence, in early 2009 President Nguyen Minh Triet conferred the Independence Order, Second Class, on him.
The coffin of Mr. Doan is currently at the Ho Chi Minh City Funeral House, 25 Le Quy Don, District 3. Visits can be made from 1pm August 14.
A memorial service will be conducted at 6pm August 16 and he will be laid to rest at the HCM City Cemetery.