A cold spell moved over the northern region of Vietnam January 12, the skies are clear but the weather is freezing cold and a number of cows and buffalo have died, according to the Lao Cai Hydro-meteorological Forecasting Center.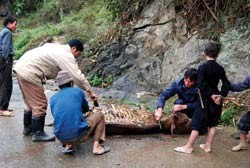 A buffalo used for beef after dying in the cold weather
Mau Son in Lang Son Province, Mount Fansipan and Sapa in Lao Cai Province would see temperatures drop below 0.8oC, the Center said.
High mountains were covered with frost and hoarfrost. Famers are apprehensive about buffalo calves and damage to the winter-spring crop.
Many cattle freeze to death
Since the beginning of December, northern Vietnam has had consecutive cold spells. The current period of cold started January 8. It is one of coldest since winter began.
With temperatures not as low as year there are still worries about damage to crops and animals.
On the way to Lao Cai, journalists saw Mong minority farmers bringing a buffalo to sell in Bac Ha suburban district. Farmers can protect grown buffalo from cold, but claves cannot bear the cold and die, a farmer said.
Along Son La, Lai Chau, Dien Bien roads, many people go to the forest to pick dry wood and straw. At night time, all households have to burn a big fire to sleep. They can not sleep without burning fire to warm them.
Meanwhile, wood is more scarce and locals have been unable to visit the wood due to the cold weather. Many households have to work harder during a cold snap.
According to Lao Cai Agriculture and Rural Development Department, farmers need to store straw immediately after harvesting rice to prevent cold during Tet. However, at the current time the intensity of the cold has led to 30 buffalo dying in Sa Pa, Bac Ha and Simacai suburban districts, Lao Cai Province.
Similar areas in Lang Son province have seen temperatures drop below 2-3oC, with 20 buffalo freezing to death. Many cattle have also died in Cao Bang, Ha Giang and Yen Bai Provinces.
Temporary halt to seeding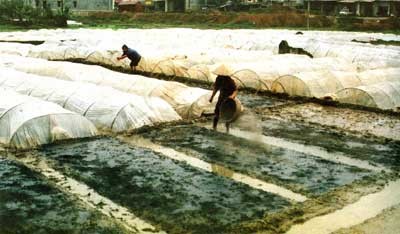 Farmers grow rice seedlings under plastic in order to protect them from the cold
The current cold spell may cause damage to most of northern Vietnam's major winter-spring rice crop, Phan Duy Hanh director of Lao Cai Agriculture and Rural Development Department told Sai Gon Giai Phong.
He said temperatures in Lao Cai at that time are 6-7oC, Sa Pa's temperature is below 0.8oC. Many people from the Department have come to suburban districts to help citizens implement measures to protect cows and buffalo from the severe weather.

According to statistics, at the beginning of 2008 nearly 50 percent of cattle in Lao Cai province died. The extreme cold has also influenced the sowing of rice.
According to the Cultivation Department, this is the best time to sow rice seeds for the winter-spring crop in February.
With the current weather many farmers have struggled to sow in time, with 20 percent of seeds damaged.
Farmers are trying to re-grow rice and other crops to compensate for the devastated areas.
The Cultivation Department has advised farmers in the north to grow rice seedlings under plastic sheeting in order to protect them from the cold.
Minister of Agriculture and Rural Development Cao Duc Phat instructed local officials to warn farmers not to sow crops in temperatures of less than 15 Celsius and to protect rice seed and save enough water.
Task forces would be established to inspect and supervise crops and measures taken to ensure production, he said.
Damaged rice could be replaced with short-term types and seed could be sown indoor.
The ministries of Agriculture and Rural Development will ensure the supply of rice seeds for sowing on rice fields damaged by cold weather and help farmers to restore herds of livestock.
According to initial statistics by the Ministry of Agriculture and Rural Development (MARD), by the end of February 13, 2008 cold weather killed 70,000ha of rice and over 5,000ha of rice seeds in 16 northern and central provinces.
Thanh Hoa suffered the heaviest losses with 25,000ha, followed by Thai Binh 10,000ha, Nghe An 10,460ha, Phu Tho 7,400ha, Hai Duong 7,000ha and Bac Giang 1,500ha.
By February 13, over 8,200 cows and buffaloes in Northwestern Provinces had perished due to cold weather, with 1,458 heads in Son La and over 700 in Thanh Hoa.