Hundreds of citizens in Long Son commune, Vung Tau city brought dead fish to block traffic in Highway 51 in hope that local authorities will solve the pollution in Cha Va river, which has killed fish in their farms and caused them heavy damage.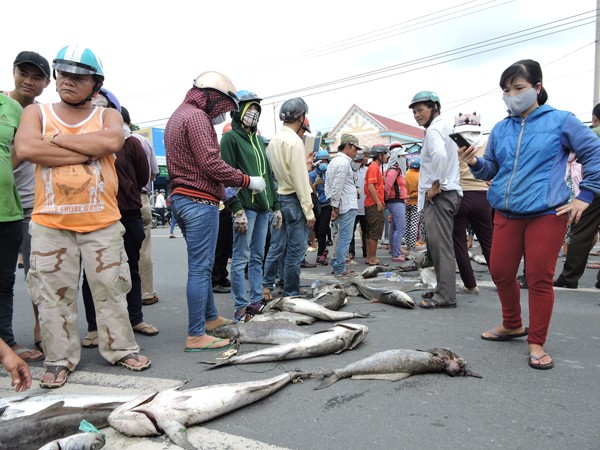 Citizens bring dead cobia fish to Highway 51 calling for help in Vung Tau city on October 13 (Photo: SGGP)
The province's leaders and authorized agencies were present at the highway at noon to convince and invite citizens to the provincial People's Committee office in the city to talk about the case.
At the meeting, citizens said that their lives had been afflicted because of continuous fish death.
According to them, seafood processing plants have discharged untreated wastewater into Cha Va river, killing their fish in September 2015.
They continued farming this year expecting to make up last year damage but after heavy rains on October 10-13, fish died en masses disappointing their hope.
Mr. Nguyen Van Minh from the commune said that about 80 percent of damaged households last year continued suffering then.
Most of the citizens said that they had not received compensation from seafood processing plants for causing them damage last year and waited for the court's interference in.
They proposed the provincial People's Committee to terminate the river pollution and consider compensation for them.
Deputy chairman of the committee Nguyen Thanh Tinh urged authorized agencies to find out causes and solutions for the fish death to answer citizens.
The Department of Natural Resources and Environment and the Police Department should work together to investigate the case and strictly handle those illegally releasing wastewater into the river, he required.
In addition, he said that the province would propose banks to extend loan payment deadline for farmers in Long Son and give them interest assistances.
A seafood processing complex is expected to be built in Dat Do district next year to relocate seafood processing companies in.
The court has been handling a lawsuit against the polluting plants in September last year. The province would give instruction so that the case can come up for trial as soon as possible, he affirmed.