The Standing Committee of the National Assembly yesterday discussed the Government's and judicial agencies' reports on citizen complaints.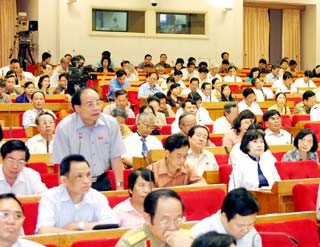 A session of the 11th NA meeting
Senior law makers called for an analysis of the causes of the complaints, and also asked for recommendations for solutions to the problem.
 
They asked for further policies and legal adjustment to ensure both the interests of the State and the public are met. The responsibilities of provincial and municipal agencies, as well as, agency leaders needed to be clearer, the law-makers said.
 
They also proposed that a resolution on the supervision of petitions be issued and that the Government report on the potential resolution in the next meeting of the National Assembly. 
  
On Tuesday the NA Standing Committee discussed reports on works of the Chief Judge of the Supreme People's Court and head of the Supreme People's Procuracy and the report of the Government on sentence implementation, conditions for prisoners, law violations and the fight against crime in 2007.
 
That afternoon, the Standing Committee continued their meeting with the Government, the Supreme People's Court and the head of the Supreme People's Procuracy and heard the NA Ombudsmen' report on addressing complaints and accusations.