Osaka's experience in building and running an underground rail network will be useful when Ho Chi Minh City builds its 20-kilometer metro line, chairman Le Hoang Quan of  HCMC People's Committee said yesterday during an inspection of the Japanese city's metro.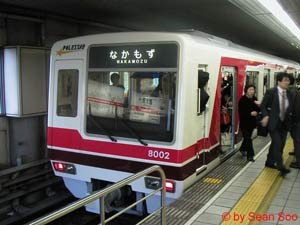 A subway train in Osaka City of Japan

Begun in 1933, Osaka's initial metro took eight years to complete and cost about US$250 million per kilometer of track. The Japanese government contributed 80 percent of the money.

Its eight lines total 130 kilometers in length and carry 2.28 million commuters on 1,280 trains every day. The entire system with its 123 stations is equipped to cope with earthquakes.

The latest line, which was completed last December, is completely automated and requires no driver.

Earlier the same day, Mr. Quan and his party visited the Kansai Economic Federation (Kankeiren), a non-profit organization comprising 800 syndicates and organizations in Kansai Province.

The federation was founded in 1946 to research and put forward regional social and economic policies, promote major economic projects and boost trade ties with other countries.

The federation's vice chairman, Mr. Masayuki Matsushita of the Matsushita Corporation, told his guests that the Kankeiren would hold a conference on investing in Viet Nam next month.

The Vietnamese party also visited the Osaka Small and Medium Size Enterprise Association to promote HCMC as a profitable place to invest.