Statistics from the Department of Natural Resources and Environment in Ho Chi Minh City show that between 350-600 tons of toxic waste from industrial units and 9-12 tons from the health sector is discharged every single day; however, treatment plants are handling only 30 tons per day.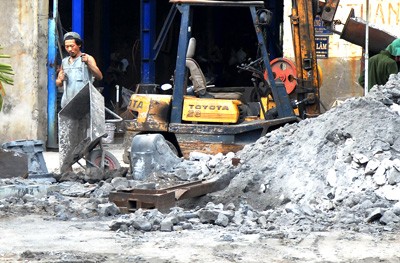 Toxic waste being dumped in front of an iron casting company in Le Minh Xuan Industrial Zone in HCMC (Photo: SGGP)
With the City only treating one twentieth of the amount of toxic waste that is being released, authorities are questioning what is happening to the remaining volume.
 
Waste volume is increasing by 10-12 percent each year, and estimated to reach 400,000 tons per year by 2015.
More than 50 units have been licensed to transport toxic waste and more than 10 have been licensed to treat the waste in HCMC.
Huynh Minh Nhut, director of the HCMC Urban Environment Company, says the City has capacity to treat only 30 tons in a day, which is one twentieth of the entire toxic waste being released in a day.
Several businesses have complained about the poor infrastructure in the City for treating toxic waste, for which they also have to pay a high fee of VND12-40 million (US$576-1,920) a ton.
This is one of the reasons leading businesses transfer their toxic waste elsewhere instead of to treatment plants.
Several businesses have hired trucks to transport their toxic waste to throw indiscriminately into the environment or mix it with household waste to reduce overall fees.
Huynh Minh Nhut says that his company has invested in a toxic waste treatment plant with capacity to treat 21 tons a day. The treatment fee is VND2.5-6 million ($120-288) a ton. However, the plant only receives one ton a day after one year since it opened.
A representative of the environment protection police department under the HCMC Police said that a number of businesses have joined hands with toxic waste treatment plants to show false contracts.
Accordingly, these businesses pay the plants a set fee but never actually transfer any toxic waste to the plants for treatment. In reality, these businesses hire trucks to transport their toxic waste to dump into the environment at random locations or into garbage dumps.
The City People's Committee has chaired many a meeting to deal with this serious issue, but have not affected any concrete results.
Nguyen Trung Viet, head of the solid waste management division under the HCMC Department of Natural Resources and Environment, said that the department is not able to control treatment of toxic waste nor does it know where it is being dumped.
This is partly because no single organization is responsible for management of toxic waste and several treatment plants have asked for licenses from the Ministry of Natural Resources and Environment.
Most treatment facilities do not report on the quantity of toxic waste they receive or their method of treating. As a result, their operations cannot be tracked.
Le Thi Kim Oanh, deputy chief inspector from the HCMC Department of Natural Resources and Environment, said that from mid August the department will be inspecting all treatment plants, however, this measure will only tackle the problem marginally as the actual root of the problem lies in proper management and selective licensing.