A solemn ceremony was held at President Ton Duc Thang Commemorative Site in District 8, HCMC on March 28 to commemorate the 34th anniversary of his death.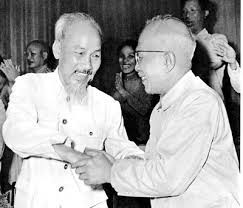 President Ho Chi Minh and President Ton Duc Thang (R) (Photo:SGGP)
About 230 participants gathered to review the President's career as a revolutionary leader.
Nearly 80 years ago, the late President chose Binh Dong Communal House as a meeting place of the Union Saigon Cho Lon region for the revolutionary struggle against the Frech colonialists.
The President returned to the mainland from Con Dao prison after the August Revolution to work with the Party Central Comittee and President Ho Chi Minh.
He became Vice President after the war against France. He succeeded President Ho Chi Minh after his death.
President Thang passed away on March 30, 1980 at 92 years old. He devoted his life to national liberation and unification. He was President Ho Chi Minh's close friend and an exemplary leader of the Communist Party.
He represented working class citizens and soldiers. He was a role model for young soldiers of the revolution.