Waves of visitors are descending on Dien Bien to observe the 55th anniversary of the Dien Bien Phu victory, where they will find a peaceful city and the Muong Thanh area with immense rice fields instead of lethal weapons.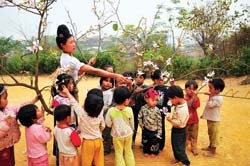 A teacher and pupils at Tung Xen primary school, Dien Bien Province. (Photo: SGGP)
The chairman of the provincial government, Dinh Tien Dung, said Dien Bien is one of the most special provinces nationwide.
With the Dien Bien Phu victory 55 years ago, Dien Bien Phu has become a proud place for Vietnamese people, and famous around the world. Dien Bien Phu is also has an important position and role for national security, he added.
Dien Bien Province shares a border with Laos and China and has four international border gates and an airport to many countries in Asia.
A1 Hill offers impressive views of the town itself, the Muong Thanh valley and the rows of hills surrounding the area.
It helps show the development of the city. Dien Bien is quietly developing with spacious houses.
Compared with other provinces, Dien Bien is not only developed but also has historical places, such as A1, D1 hills and statue of the Dien Bien Phu victory.
Dien Bien today has many schools, pharmacies and a general hospital.
Dr. Trieu Dinh Thanh, director of Dien Bien Health Department, said although them medical system still faces difficulties, the province has a general hospital helping to improve diagnose and treatment.
For education, Dien Bien was officially recognized by the Ministry of Education to have achieved national standards for universal education at secondary education, with more than 90 percent of teachers achieving national standards.
Mr. Dung said investing in medical and education is one of the most important policies in Dien Bien. With a special position, Dien Bien needs to pay attention to citizens' lives, ensure social security and help sustainable development.
In period 2006-2008, Dien Bien Phu City alone achieved an annual GDP growth rate of 11 percent, with average annual incomes of VND8 million.
Currently, trade and tourism and services make up nearly 60 percent of the city's economy.
In the coming years, the city aims to maintain a steady economic growth rate of between 15-16 percent, with GDP per capita reaching US$1,650, said Mr. Dung.
Dien Bien today still faces many difficulties, however, it has a potential to develop. The natural scenery offers Dien Bien a good tourism boost. Dien Bien Province is becoming more developed, with a population of more than 443,000, 40 percent of whom are Thais.

After a two month campaign in 1954, Dien Bien Phu was a major victory for Vietnam and helped to end the war.