The HCM City Department of Agriculture and Rural Development has recently raised concerns about the rising levels of pollution in the Thay Cai An Ha canal, which supplies water for cultivation to over 9,000 hectares in Hoc Mon and Binh Chanh Districts.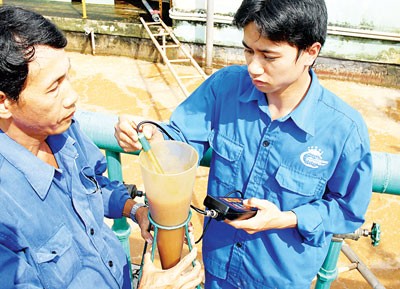 Workers testing concentration of substances in wastewater at Vinh Loc Industrial Zone in HCMC (Photo: SGGP)
The Thay Cai An Ha canal which flows nearby the Tan Phu Trung Industrial Park is heavily polluted with untreated wastewater discharged from companies in the park, said a representative of the department.
Tan Phu Trung Industrial Park now has a concentrate of 52 operating enterprises, with many yet to connect their wastewater pipelines to the city central system, added the representative.
Though the central wastewater treatment system in the park has been in place since 2009, with daily treatment capacity of 4,000 cubic metres, it can only treat 300 cubic metres a day.
Pollution is also flowing in from upstream, bringing in waste water from factories in Hoc Mon and Cu Chi Districts.
An inspection was conducted on companies that were causing pollution to the canal water, said Doan Van Hung from an irrigation company, and several companies such as Nhat Tri Company, An Thien Paper Company, Thanh Cong Ruber Company, and Linh Trung III, Hanh Phuc and Xuyen A industrial zones were identified.
The irrigation company asked the people's committees of Binh Chanh and Hoc Mon Districts to penalise companies discharging wastewater.
Ta Van Chinh, deputy chief inspector of the Department of Agriculture and Rural Development said that there are many companies operating along the canal and many do not have wastewater discharge systems. Therefore, the department will coordinate with related agencies to inspect and penalise polluting companies in future, he added.