Environmentalists have warned against use of plastic bags as these are made from crude oil and hence harmful to the environment.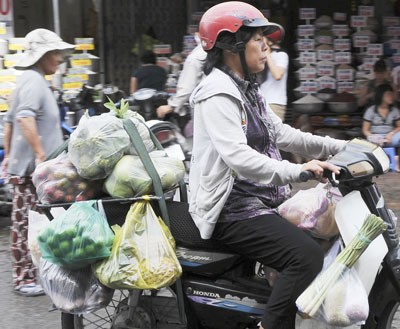 Customers place fruits, vegetables, and other items in plastic carry bags (Photo: SGGP)
However, curbing the use of plastic bags is proving a constant headache for authorities. According to the Waste Recycling Fund in Ho Chi Minh City, most commercial centers, supermarkets and traditional markets continue to use plastic bags, as these are strong, cheap and easy to work with.

Plastic shopping bags are used most of the time in traditional markets, commercial centers and supermarkets. Very few customers use environment-friendly bags or reusable bags.
On an average, every single person receives from one to three carrier bags on each shopping trip or the city consume around 9 million plastic grocery bags every day.

In recent years, many countries have introduced laws to restrict or ban use and sale of plastic bags, in a bid to reduce littering and pollution.

Plastic is basically non-biodegradable and stays in shape for years to come, blocking drains, and choking soil and making ground un-reusable for future.

Thousands of plastic bags are already choking the Ba Tieng, Ba Luu Canals in Binh Tan District and Binh Thai, Nho and Cau Mieu Canals in Thu Duc District.

Vietnam has produced environment-friendly bags but these are priced more expensive than normal plastic bags.

Hoang Van Dieu, from Tan Binh Culture Company, said his company has manufactured environment-friendly bags but only exports them as local people refuse to buy these.

The Department of Natural Resources and Environment said it will adopt more programs to raise people's awareness of the harmful effects of plastic bags to the environment and encourage consumers to use environment-friendly bags instead.