Leaders of the Ho Chi Minh City Party Committee, Military Zone 7 High Command in HCMC, Party Central Committee and the Government and other State offices paid their respects to late General Vo Nguyen Giap at a ceremony held at the Reunification Palace on October 12.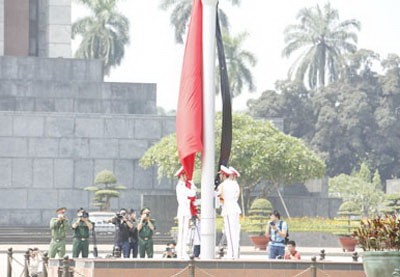 National Flag at half-mast on Ba Dinh Square(Photo:SGGP)
Le Hoang Quan, Chairman of the People's Committee, reviewed the life and revolutionary career of the late General, stressing on the fact that the General was one of the most outstanding military strategists.
He was an excellent disciple of President Ho Chi Minh and a protector of the Vietnamese people and the Vietnamese army. He had made great contributions to the revolutionary cause of the Party and the nation. He was loved and respected by the people and in the international community, and will be the pride of generations of officers and soldiers nationwide.  His death is a great loss to the Party, the State, Vietnamese people and army.
Simultaneous memorial services will be held in Ho Chi Minh City and Hanoi to pay last respects and homage to Vietnam's Legendary General Vo Nguyen Giap on October 12 and13.
The People's Committee has asked State agencies and Public places to fly flags at half-mast and all entertainment activities to stop at 12:00 hours on October 11 when the state funeral of the General will begin.
The General's coffin has been laid with full state honors at the National Morgue on 5 Tran Thanh Tong Street in Hanoi.
He will be buried in his home province of Quang Binh, in line with his wishes and that of his family.
The memorial and burial services will be broadcast live by Vietnam Television and on radio on Voice of Vietnam.
The Military Command in the central province of Quang Binh said the Guard of Honor by the Vietnam People's Army in Hanoi will be a solemn ceremony, and the funeral possession will comprise of 25 vehicles, deployed by the Ministry of Defense, to carry the General's body to Quang Binh Province.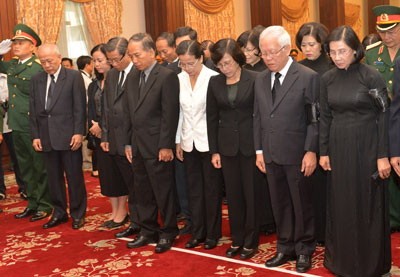 Ho Chi Minh City leaders pay their respects to the late General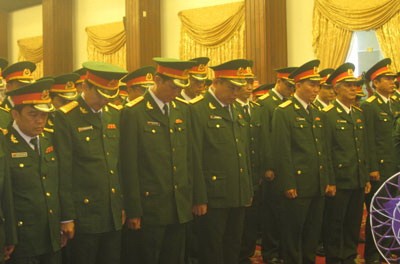 Leaders of Military Zone 7 High Command pay respects to the late General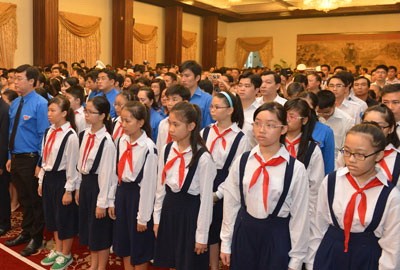 Youth and students express deep affection for the late General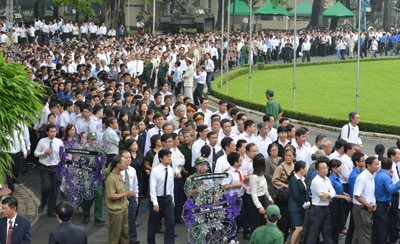 A large number of people paid their last tribute to General Vo Nguyen Giap at the Reunification Palace (Photo:SGGP)