On the morning of October 30, Mr. Le Hoang Quan, Chairman of the People's Committee of Ho Chi Minh City held a meeting with Mr. Rosen Plevneliev, President of Bulgaria and his high level delegation on occasion of their visit to Ho Chi Minh City.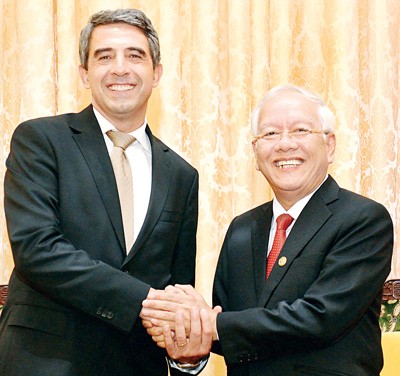 Chairman Le Hoang Quan and Bulgarian President Rosen Plevneliev (L) at the meeting (Photo:SGGP)
At the meeting, Chairman Le Hoang Quan emphasized that political cooperation between the two countries had deepened, but economic cooperation and other fields were still lagging behind.
To become a strategic partner, Chairman Le Hoang Quan hoped that cooperation in the field of economy, education and science between the two countries will continue to strengthen further in the near future. Chairman Quan also expressed his desire that HCMC cooperate not only with the capital of Bulgaria but also other provinces.
The Bulgarian President expressed his surprise at the rapid development of Ho Chi Minh City. He said that Bulgarian enterprises are very much interested in investing in HCMC in fields of water purification, pharmaceuticals, industry and defense.
Mr. Rosen Plevneliev hoped that Bulgaria will have an opportunity to also welcome high level delegations from Ho Chi Minh City in Bulgaria in the near future, with an aim to sign cooperation projects between HCMC and Sofia, capital of Bulgaria as well as other localities.
In the evening of the same day, Bulgarian President and Mr. Le Manh Ha, Deputy Chairman of the People's Committee of HCMC, participated in a Vietnam-Bulgaria business forum. Speaking at the forum, the Bulgarian President hoped that Vietnam will help Bulgaria penetrate into the Southeast Asian market, while on the other hand Bulgaria will help Vietnam penetrate into the European market.
Moreover, Bulgaria is willing to share experiences, achievements with Vietnam in energy, health, education and various other fields.
On behalf of the City leaders, Deputy Chairman Le Manh Ha hoped that Vietnam and Bulgaria will strengthen economic cooperation in the near future.
Later in the evening of the same day, the Bulgarian President Rosen Plevneliev and Mr. Hua Ngoc Thuan, Deputy Chairman of People's Committee of Ho Chi Minh City attended a musical program with participation of Bulgarian and Vietnamese ex-students who have studied in Bulgaria.