These days' night markets in Ho Chi Minh City are bustling with frenzied activity throughout the night till the wee hours of the morning with buyers and sellers hectically closing sale deals as Tet Lunar New Year draws closer.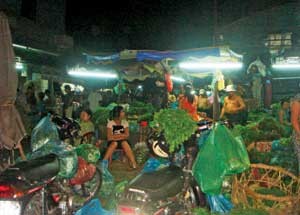 Bustling activity in night market Vo Thanh Trang in Tan Binh District
Buying and selling continues through the night in markets in Ho Chi Minh City. Night markets Vo Thanh Trang in Tan Binh District, Mai Xuan Thuong in District 6 and mobile markets from Le Van Khuong Street in District 12 to Truong Dai Bridge in Go Vap District have hundreds of motorbikes and tempo vans parked and queued to load commodities to transport across the city.
These markets are doing brisk business from 8pm to 3am. Noisy, crowded and quite chaotic, most are vegetables farmers from the suburban districts 12, Cu Chi, Hoc Mon trying to sell their goods to wholesale traders.
Selling and buying takes place in a moment as buyers glance at the varieties of vegetables and decide the prices in an instance.
By the wee hours of the morning, selling and buying is over and the vegetables are already put on vans and bikes, ready to be moved to markets across the city.
Vo Thi Kim Nhan, who has been selling for 15 years says those working in fields, must get up early because migrants from the North to the South are busy selling and buying in night markets.
Some days see traders requesting for a particular kind of vegetable that is on demand by customers. They bargain for this and both the buyer and the seller try to get the upper hand here.
When the first rays of sun appear in the sky, the night markets wraps up, sellers count their money that they have laboured through the night to earn, pack up and leave for their homes outside the city.