Chairman of the Vietnam Fatherland Front Central Committee in Ho Chi Minh City Trieu Le Khanh, yesterday offered 79 gratitude houses worth VND 70million each and 10 great unity houses worth VND 40million each to social policy families and disadvantaged families in Tay Ninh province.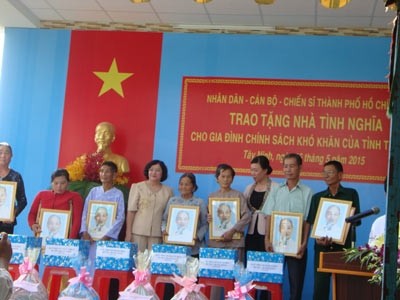 Disadvantaged families in Tay Ninh province are presented gifts. Photo: SGGP
Among 79 gratitude houses, the delegates also gave 63 houses to the poor in Trang Bang District of Tay Ninh. On this occasion, the delegation presented gift packages to disadvantaged people worth VND 300,000 each.
This is part of activities "Repayment in kind" launched by Ho Chi Minh City's party committee, aiming to improve the life to households in the old revolutionary base.