Officials from the People's Council of Ho Chi Minh City yesterday held a meeting with residents of Tan Binh District to discuss environmental pollution issues caused by companies in Tan Tao Industrial Zone.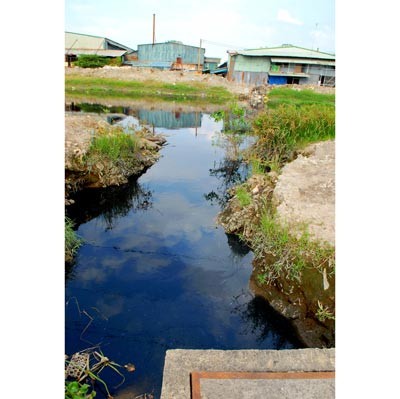 Waste water released after treatment at Tan Tao Industrial Zone. (Photo:SGGP)
Over 100 residents from Tan Tao and Tan Tao A wards of Tan Binh District participated in the discussion. All participants were unanimous in their opinion that the environment around the Tan Tao Industrial Zone is getting increasingly polluted, with exhaust fumes, sewage and rubbish being dumped from companies in the industrial zone area.
Residents named some serious polluters like the Tom Boy Aqufeed JSC, Thuan Tien Co.Ltd and Xuan Huong Textile Company.
These enterprises have released wastewater into rivers and canals, affecting the health of residents living in surrounding areas.
At the meeting, authorities showed their concern for the 257 children from Tan Tao pre-school who are being affected with the pollution.
The school and the industrial zone are separated by only a 10 meter broad canal. The school children breathe in smoke everyday, from enterprises in the industrial zone.
Do Thi Thanh Van, deputy headmaster of the school, said that the canal is polluted with thick grimy water that has a foul smell.
Residents of the district hoped that the city authorities would take action against the polluters and resolve this serious issue as soon as possible.