Ho Chi Minh City People's Committee has petitioned related agencies to draw up a roadmap for a minimum wage policy to protect workers' interests.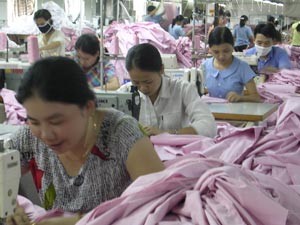 The current minimum wage is too low in private-owned companies and has not safeguarded a basic living wage.
The committee said the current minimum wage was too low and had not safeguarded a basic living wage, which has been hampered by some sectors, particularly workplaces in dangerous environments.
According to the city, a legal application of the minimum wage would help workers in negotiating salaries with their employers.
The city authorities also said the Ministry of Labor, War Invalids and Social Welfare needs to hasten work on a policy to unify the minimum wage level, as well as define equality mechanisms between economic sectors and meet with market and WTO requirements.
The State needs to bring minimum wage into law and follow the market's tendency base of respecting negotiations between companies and employers and build a clear payroll.
The current minimum wage, as of May 1, 2009, is VND650,000 (US$40) per month for public servants, pensioners, those on social insurance, members of the armed forces, State employees, social-political organizations, state-owned companies and small business.