Ho Chi Minh City authorities March 13 visited District 9 to inspect the building progress of the National Cultural – Historical Park, 408 hectares, as well as to discuss organizing the Hung dynasty's anniversary that will be held at the park on the 10th of the third lunar month, April 4.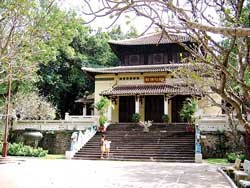 A Hung kings' temple in HCM City (Photo: SGGP)
The Hung kings commemoration temple has been built and completed for the inauguration and Kings Hung's anniversary, head of the management board of the park, Mai Chi Thuan, reported to city leaders.
The city Party Committee Secretary emphasized that this is a work with great historic meaning.
The Secretary asked relevant authorities to regularly check buildings to ensure the quality of the work, as this work presents national tradition and commemorates the ancestors' merits.
The head of the Department of Culture, Sports and Tourism also presented plans for the Hung's anniversary at the park. The festival will include parading, delivering speeches, offering incense and flowers, liturgy and an art performance.
The city will organize a trip to bring soil, water, a censer and a bronze drum from Viet Tri City, Phu Tho Province, to HCM City to carry out the blessing ceremony of the Kings Hung's commemoration temple.

Hùng Vương is the dynasty who ruled Van Lang, the first nation of the ancient Vietnamese people. Van Lang was founded in 3079 BCE and existed until 258 BCE.