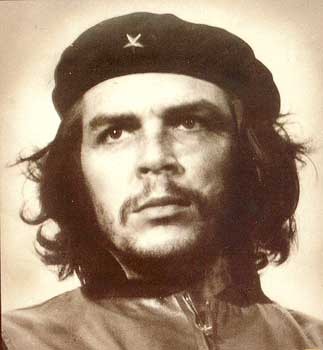 Che Guevara
More than 500 Vietnamese and Cubans gathered at the Ho Chi Minh City Union of Friendship Organizations on Tuesday, forty years to the day after the Argentine-born Cuban revolutionary Che Guevara met his end in Bolivia.
Ms. Hoang Thi Khanh, chairwoman of the Cuba Viet Nam Friendship Association, said she was profoundly grateful for the support Che had given to the national liberation movements across Latin America and in Viet Nam.
She stressed that Che's sacrifice was a perfect example of a communist soldier brimming with the will to struggle on and full of the spirit of the international proletariat.
In her speech, Cuban Consul General Ms. IIiana Hernandez called on people everywhere to stand side by side with her nation in the struggle for independence and justice.
A general call was made for people everywhere to protest against the unreasonable US embargo of Cuba and help the island stay a socialist nation as desired by Che.
Many young people attended the function for a friendly competition to paint Che's portrait on paper and have the resulting likeness judged by the other guests.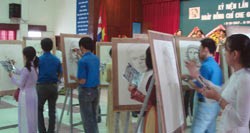 Young people compete to portray Che Guevara on paper at Tuesday's anniversary function
Ernesto Guevara de la Serna, commonly known as Che Guevara, was born in the Argentine city of Rosario on June 14, 1928. As a young man, he traveled across Latin America and witnessed the cruel exploitation of the poor.

Che met Fidel Castro in Mexico in 1955 and joined Castro's 26th of July Movement against the dictatorial regime of General Fulgencio Batista soon after. By the time of Castro's triumph in January 1959, Che had become a key player.

After spending ten years in important posts, Che left Cuba in 1965 to fight alongside the oppressed people of the Congo and Bolivia.

He was summarily executed by Bolivian soldiers in the town of La Higuera near Vallegrande on October 9, 1967.

Che was a great friend of the Vietnamese people and was active in the resistance against the Americans. He urged people in poorer nations to take up arms and create "one hundred Vietnams".

"Che sacrified his life for the interests of oppressed people in the continent. He shed his blood for all nationalities in America and Viet Nam. Che knew that he devoted to Viet Nam his lofty solidarity," President Fidel Castro said in a eulogy.