Residents of Ho Chi Minh City are focusing on tightening expenditure and reducing spending in order to join the nationwide movement to curb inflation.
The purchasing power of people of the city in traditional markets and supermarkets is showing a sharp decline.
People giving priority to food items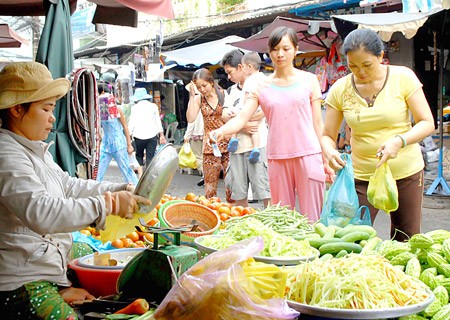 Residents consider expenses before buying vegetables in a market in Phu Nhuan District.(Photo:SGGP)
People are becoming more fastidiousness before deciding what to buy in the supermarkets.
N.T.Thuy from Phu Nhuan District is buying cautiously as she said that pork meat has increased by 40-50%, seafood by 20-30% and many other items have become far costlier. Currently, about 70% of her family's total income goes into food and her family needs to tighten expenses if they want to avoid facing difficulties in future, she added.
According to some supermarkets, during the four first months of the year, the turnover difference between non-food items and food items was 43% and 57%. Fresh food items have helped supermarkets keep up growth.
Decline in purchasing power
H., a cloth shop owner in Soai Kinh lam market, said the amount of cloth sold in the first four months this year was just 30% of the amount of cloth sold in the same period last year.
Van, a cloth trader in An Dong market said that this year, cloth prices increased by 30%, so purchase power decreased sharply.
According to Nguyen Huu Toan, deputy general director of Saigon 2 Garment Company, the company turnover deceased 20% compared to the same period last year. The number of customers also decreased by 30% compared to last year.
The commercial centers have failed to meet targets in the first quarter of the year. Most shops are falling into a slump.
To avoid going into a slump, supermarkets have been implementing a series of measures to stimulate purchase power. Many supermarkets are offering promotional programs and simultaneously negotiating with suppliers to maintain prices, not increase prices.
Supermarkets such as Co.op Mart, Maxi Mark and Lotte Mart are offering promotional discounts on many essential goods, aimed at stimulating the domestic consumption demand until April 30.