The Party and State December 1 held a solemn memorial service at Ho Chi Minh City's Reunification Palace to send the late Party General Secretary Ha Huy Tap to his final resting place in the northern central province of Ha Tinh's Cam Xuyen District.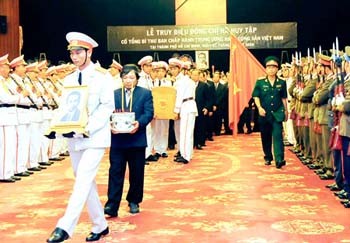 A solemn memorial service for late Party General Secretary Ha Huy Tap is held at HCM City's Reunification Palace on December 1. (Photo: SGGP)
Speaking at the service were Truong Tan Sang, Politburo member and Permanent Secretary of the Party Central Committee, senior Party and State officials, delegations from provinces and cities, and the entire Ha family. Also attending was Secretary Tap's 81-year-old daughter Ha Thi Thuy Hong.
The revolutionary life of the late general secretary was short but glorious, said Mr. Sang who also served as the head of the memorial service organization board. Mr. Tap made great contributions to the revolution, the Party, and the nation, Mr. Sang added.
The late Party leader bequeathed us valuable lessons on revolutionary ideals; the spirit to study and train tenaciously; and the will to fight until the last breath for the country's independence, freedom and people's happiness, Mr. Sang continued.
Hundreds of people walked in reverence to the song "Hon tu si" (Martyr's soul) behind a vehicle carrying Mr. Tap's remains.
A cannon was wheeled in the procession symbolizing the strength and glory of the revolutionary soldier in completing his duty to the nation.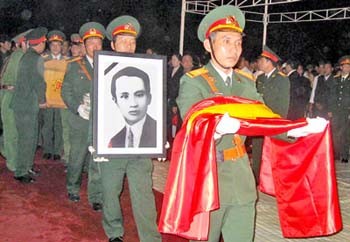 Secretary Tap's remains are brought back to his hometown in Ha Tinh Province's Cam Xuyen District on December 1. (Photo: SGGP)
Secretary of the HCMC Party Committee Le Thanh Hai expressed deep sentiment on behalf of city residents to the late Genral Secretary for his contributions to the Party, the nation, and HCM City.
To show its gratitude, HCMC would try its best to lead the country in industrialization to become a civilized, modern socialist city. It would stand out not only in the country but also in the entire Southeast Asian region, Mr. Hai said.
At 8pm the same day, the late General Secretary's remains were taken to Cam Hung Commune, Cam Xuyen District, Ha Tinh Province to a warm and solemn welcome from thousands of local residents.
On December 2, a memorial service for the late Party General Secretary was held in the commune.
Secretary Tap's remains will be buried at Dong Nem Temple Hill, 2 kilometers from a commemorative area set aside in the commune to honor the Vietnamese revolutionary leader.

Related article:
Family at peace after late Party leader remains found