Inspectors from Ho Chi Minh City's Department of Culture, Sports and Tourism  and other concerning organs recently swooped into a bar, BB Club, in Nguyen Thi Minh Khai Street, District 3, after investigating it for sometime and found employees allegedly without labor contracts nor did it have food hygiene certificates.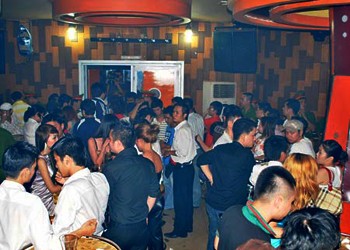 A nightclub in HCMC (Photo: SGGP)
They also found prescription drugs which the inspectors believe may have been used recreationally.
Over 100 people, dressed scantily, were unable to present identity papers and taken to District 3's police station to be tested for illegal drugs.
The BB Club was licensed to open as a restaurant, however, it allegedly operated as a nightclub with hundreds of people dancing most nights.
Under the ground floor was another bar, G8. It was earlier named Louis, a bar where tens of people were caught for allegedly taking drugs.
Local authorities had previously asked Louis to close it doors in 2008 after breaking various regulations.
According to an unverified report, HCMC currently has about 40,000 restaurants operating without licenses. Of these, 1,000 bars run undercover of restaurants, which are mainly located in districts 1, 3, 5, 6, 7, 8, 10, Tan Binh, Tan Phu and Binh Tan.
Recently, some bars have broken regulations by remaining open after official closing-time, playing music that is prohibited, nude dancing, heroin and ecstasy drug use and prostitution, among many other violations. 
Sanctions have not been strict enough to ward off such nightclubs
In a 2006 Government decree, 56/NĐ-CP, punishment for administrative violations in culture and information activities, violations like using workers under 18 years old or staff without labor contracts, creating excessive noise, or opening doors past 11pm are to be punished with fines of VND2 million.
Some have questioned the small penalties, especially compared with the large profits earned. As such, such places continue despite being fined regularly.
In 2005, the Government instructed local authorities to control negative activities in bars, restaurants, karaoke bars and nightclubs.
Accordingly, provincial authorities should stop granting licenses for this business type.
People wanting to trade in this field have asked for licenses to establish companies and restaurants with ever more simple procedures. As a result, there are many bars, nightclubs and karaoke bars operating illegally.
Dang Minh Su, deputy head of HCM City's sub-department for social problems, said that to withdraw licenses of restaurants with illegal bars, authorities have to catch them while they organize prostitution, or sell or allow drugs to be taken on the premises.
However, it is very difficult to uncover as those being investigated are able to hide illegal activities in time.
Moreover, some bar and nightclub owners in the city have good relations with some senior officials. The number of inspectors is also thin and they have to cover a large area, leading to difficulties to clear illegal bars and nightclubs.