Ho Chi Minh City People's Committee chairman Le Hoang Quan has sent an urgent dispatch to the Prime Minister, suggesting that the Government ban the development and importation of online games due to the ill effects they cause, namely their habit-forming nature.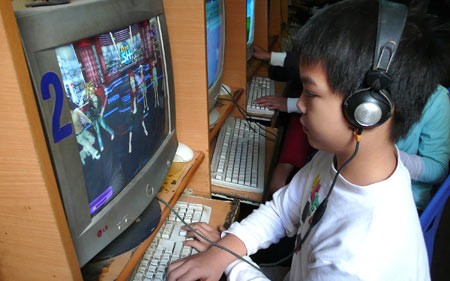 A child plays online games at an Internet shop in Ho Chi Minh City (Photo: VNN)
Chairman Quan proposed that the Government orders the Ministry of Information and Communications to establish and make public standards that rate the violence level of online games.
 
The dispatch said after establishing standards, the ministry could reassess already licensed online games and allow the continued circulation of only games that do not involve violence, gambling or pornography.
 
New games, according to the dispatch, need to be evaluated strictly; those games that contain violence, gambling or pornographic content must not be issued licenses; and the importation of new games.
 
In addition to an evaluation based on standards, the social impact of online games has to be assessed before granting licenses.
 
As for measures to discourage the playing games, the chairman suggested the Government approve a ban on advertising online games similar to prohibitions on advertising of alcoholic beverages and tobacco, and that online games should be banned outright, from 11pm to 6am.  
 
Game players have to be managed and should only be permitted to play three hours a day, the dispatch said.
 
The dispatch also said the Government should let localities that have many game players, as Ho Chi Minh City does, to join the council for appraising the content of new online games.
 
At present, an estimated 2-3 million Vietnamese young people play online games.