The Economy and Budget Committee of the People's Council of Ho Chi Minh City on Wednesday asked relevant departments to propose measures by latest July 25, to deal with the persistent foul smell emanating from the Binh Hung Wastewater Treatment Plant in Binh Chanh District.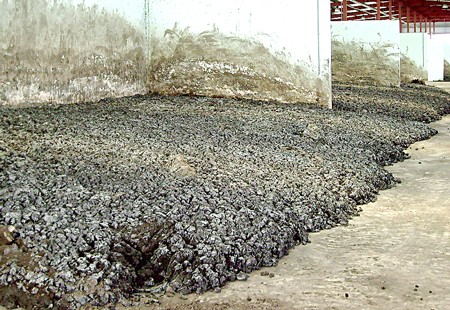 The open mud waste dump of the Binh Hung Wastewater Treatment Plant is causing unbearable stench in Binh Chanh District of HCMC (Photo: SGGP)
Relevant departments and representatives of the committee met with the Urban Drainage Company, which is managing the wastewater   plant, to determine the reasons and find solutions to contain the stench.
Nguyen Thi Quang Suong, an environmental official in Binh Hung Commune, said thousands of households in the commune are suffering because of the persistent stink from the plant.
Pham Dong Phuong, chairman of the People's Committee of Binh Hung Commune, said that the stink emanating from the plant day and night becomes worse after a rainfall or when it is bright and sunny.
According to Le Thanh Son, director of the Urban Drainage Company, the Binh Hung plant is under an environmental project of HCMC and was built to treat wastewater over an 825 hectare area with population of 425,000 people.
The plant's capacity in the first phase was 141,000 cubic meters a day.
Wastewater from Districts 1, 3, 5 and parts of District 10 runs through drains to Dong Dieu Pumping Station and then to the Binh Hung plant for treatment.
The wastewater treatment process generates mud waste, which is only buried after 15 days of fermentation. The stink emanating from the uncovered mud waste is causing unbearable stink.
Delegates at the meeting said that besides temporary measures to reduce the stench, the company should use more advanced technology to absorb the smell.
Pham Van Dong, head of the Economy and Budget Committee asked the Urban Drainage Company, the City Steering Center for Urban Flood Control Program and Binh Chanh District authorities to prepare a detailed report on this issue as well as propose solutions by July 25 to the committee.