The People's Committee of Ho Chi Minh City has instructed the Department of Transport to implement strict and effective measures to deal with littering along the newly cleaned-up Nhieu Loc-Thi Nghe Canal and crack down on encroachments along Hoang Sa and Truong Sa Streets.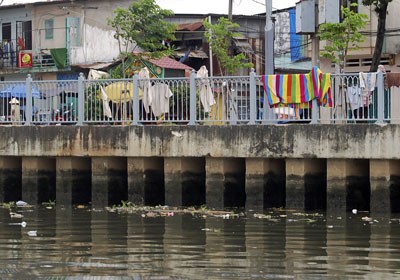 People are continuing to throw garbage into the Nhieu Loc-Thi Nghe Canal (Photo: SGGP)
The department should also examine operations of other related departments and district bodies on how they have implemented their pledge to keep the City green and clean, particularly the streets along the Nhieu Loc-Thi Nghe Canal.
The Urban Traffic Management Board No.1 should complete installing of garbage bins alongside the canal by October 15.
The Nhieu Loc-Thi Nghe Canal used to be a garbage dump once and the City has spent US$317 million, loaned from the World Bank, to clean-up the entire length of the canal. In August this year, after the clean-up operation was complete, the canal was official inaugurated by City leaders.
Regardless of the efforts made, a number of people are still littering the canal and hundreds of restaurants are still encroaching on Hoang Sa and Truong Sa Streets along both sides of the canal.
Nguyen Ngoc Cong, deputy director of the Steering Center for the Urban Flood Control Program, said that besides penalties and fines, the City should coordinate with relevant departments to step up propaganda and mobilize residents not to dump garbage into rivers and canals.
According to a Government Decree, any one littering is liable to a fine of VND100,000-300,000.