The People's Committee of Ho Chi Minh City has approved a VND500 billion (US$24 million) project to build a toxic waste dump site in Cu Chi District.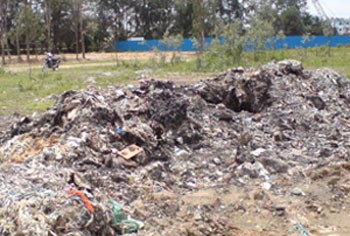 Toxic waste is indiscriminately dumped in HCMC (Source: An Ninh Thu Do)
The Department of Natural Resources and Environment on Tuesday hosted a meeting to launch the project.
At the meeting, Huynh Minh Nhut, Director of the Urban Environment Company said that the City People's Committee had assigned his company to construct the toxic waste dump site in the Tay Bac Cu Chi waste treatment complex.
The toxic waste dump site is expected to stretch over five hectares and will have a total capacity of 182,600 cubic metres.
It is scheduled to break ground in the fourth quarter of this year and come into operation by 2014.
After completion, the dump site will be able to receive 100 tonnes of toxic waste per day for treatment, at a running cost of US$200 a tonne.