A press conference to introduce an organized walk for AO victims was held by Ho Chi Minh City Red Cross Society on August 4.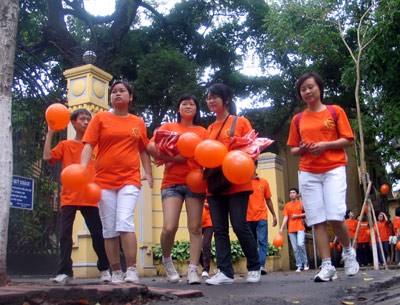 Students join in the walk to raise fund for AO victim on May 10, in Ha Noi
The walk program will be held on August 9, with 10,000 participants and will be broadcast on VTV3 and VTV9.
At the walk, the city's Red Cross Society will also organize a music program, "Khat Vong Song" (Inspire a Life), publicizing measures to prevent A/H1N1 flu, donate blood and present gifts to AO victims.
As of August 4, more than 40 companies have donated over VND2.5 billion for the walk.
With the amount of money raised, the Red Cross and 24 districts and communes will give financial support to AO victims, such as capital for breeding animals, scholarships, and free wheelchairs.
A fund raising and signature collection ceremony to support AO victims will also be held on this occasion.
Statistics released by the Vietnam Association of Victims of Agent Orange show that around 4.8 million Vietnamese people have been exposed to AO/dioxin, of whom, three million have been confirmed as being directly affected by the toxic chemical.