The Ho Chi Minh City authorities will harshly punish fake and low quality product makers to protect consumer rights, said city's Vice Chairman Le Manh Ha in a seminar to raise awareness in communities on consumer rights protection in Ho Chi Minh City on March 14.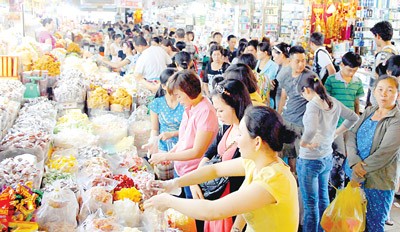 Buyers at the Ben Thanh Market in Ho Chi Minh City (Photo:SGGP)
The seminar was jointly held by the Department of Industry and Trade in HCMC, the City Consumer Rights Protection Association and the Vina Scientific and Technological Development Joint Stock Company (Vina CHG).
The seminar introduced new regulations relating to the Consumer Rights Protection Law and discussed several issues concerning consumer rights.
At the seminar, businesses and the City Consumer Rights Protection Association signed a commitment to protect consumer rights in the future.
The Department of Industry and Trade is also organising various activities throughout the city under the theme "Our Money, Our Rights", on World Consumer Rights Day on March 15.
The activities will focus on raising awareness of fake and low-quality products, as well as of trademark protection.
According to the Market Watch Department under the Ministry of Industry and Trade, many fake and low-quality products such as in fertilizer, pesticides and pharmaceutical drugs are flooding the domestic market, causing much harm to several agricultural food items, people's lives and the environment.
Since the beginning of the year, inspectors across the country have uncovered 11,400 cases of violation; penalised a total of VND23 billion; and seized huge volumes of goods worth tens of billion VND.
Nguyen Manh Hung, Deputy Chairman of the Vietnam Consumer Rights Protection Association, said that it is difficult to detect fake goods from genuine ones.
Nguyen Viet Hong, General Director of Vina CHG, said that companies need to stamp or mark their goods, to help verify counterfeit items from fake products.