To feed back series of reflection articles of Sai Gon Giai Phong (SGGP) Newspaper about citizens have not paid much attention for online public services, Deputy Chairman of the HCMC People's Committee Tran Vinh Tuyen yesterday had a conference & asked localities must establish online public services citywide, helping citizens and enterprises quickly approach the services.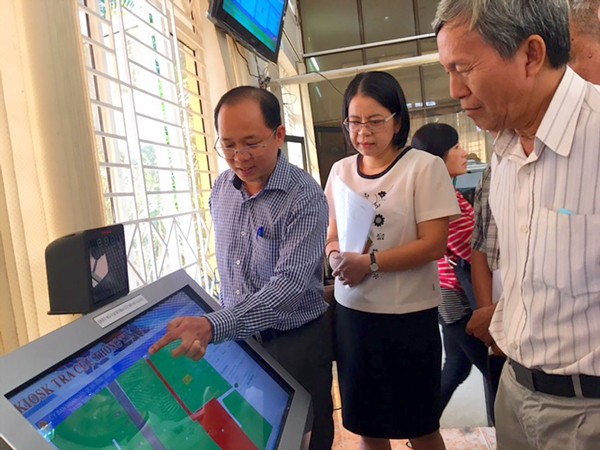 Citizens look up online planning information in Binh Thanh district.
At the conference, the Information and Communications Department reported the number of citizens and enterprises has used the public services in the recent time.
For civil servants' group, the number of files are processed via online public services, accounting for 1 percent while economic group reached 2 percent, a group of land and building was 1 percent, a group of birth, deaths and marriages accounted for 2 percent and food safety group of 1 percent.
Deputy Chairman praised Departments of Education and Training; Trade and Industry; Information and Communications; Planning and Investment; Transport and Justice have had the large number of online public service documents.
On the contract, some departments of Culture and Sports; Health; Labor, Invalids and Social Affairs and Planning and Architecture have had low rate of online public service users.
Lack of expense, new system change and regulations of relevant ministries and agencies are main reasons causing low rate of the number of online public service users.
Director of the city's Health Department Nguyen Tan Binh said that in order to improve this service, the city need to invest seven software applications worth up to VND 20 billion.
In context of current difficulties, the citywide departments, agencies and districts need to boost application of online public service, and considered as a basic solution to reduce complicated administrative forms for citizens.
Mr. Tran Vinh Tuyen said that the functional agencies should hire software applications to reduce annual using expense; open training cource for enterprises with the online public services.
Besides that, he also required the city's information and communications department to provide e-signature for the functional agencies by April, the department of planning and architecture as well as localities must pledge disclosure of planning target on its website.