Residents of Long Binh Ward in District 9 watch with frustration as tons of untreated waste is regularly being dumped in their backyard.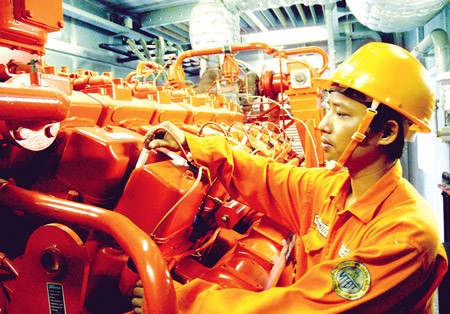 A worker-operating generator using bio-fuel at Go Cat Power Station in HCMC (Photo: SGGP)
Hundreds of trucks move stealthily in and out of the area despite the district authorities assigning night watchmen.
This situation is not new to the city. According to several companies, lack of infrastructure for waste treatment has caused waste treatment costs to skyrocket and subsequently has led to the above condition.
Representatives of a company in District 12 said they had to pay VND40million (US$1,900) for treatment of a ton of toxic waste, while the price was only VND8-12million last year.
Nguyen Van Kim, who is in charge of environment management of Casumina Hoc Mon Enterprise said his company already had many overheads like environmental fees on waste water treatment, exhaust fumes, waste release, industrial solid waste and toxic waste.
Nguyen Van Long, in charge of production at Uniliver Vietnam said that the company spent US$720,000 for treatment of waste, generated during the production process in a year.
It is likely that in 2012 the State will implement the environmental tax. Commodities like gasoline, polymer and chemicals will be taxed from 5-170 percent.
According to Associate Professor Nguyen Dinh Tuan, principle of the Natural Resources and Environment College, this will lead to an overlap of environmental fees and taxes.
Most companies have expressed disagreement with the method to collect environmental fees.
Each type of waste will have different bodies to collect the fee. For instance, industrial waste dumping fee is collected by Department of Environmental Protection, subsistence waste fee by the Saigon Water Supply Corporation and underground water fee by district department of taxation.
On the other hand, for toxic waste, the Department of Natural Resources and Environment allowed businesses to store the waste until it was at least one truckload. The department also asked businesses to ensure that in the storing process the waste was not released in the surrounding environment.
However, Nguyen Huy Hoang, head of Binh Chieu Industrial Zone management board said that recently his zone had been issued a penalty for storing toxic waste.