Lack of recreational activities in Ho Chi Minh City compels workers to return to dingy rooms or while away time in coffee shops after working hours.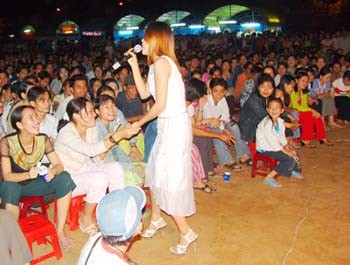 Workers at a music exchange program hosted in an industrial zone in HCMC (Photo: SGGP)
Returning to their rented room in Tan Tao A Ward of Binh Tan District on a Sunday, some workers were found to stay at home to sleep, play cards or drink.
Nguyen Thi Hoa from the northern central province of Ha Tinh said that after working hours, they all returned to their rented rooms, as they had nowhere else to go. Her room is only 10 square meters but accommodates up to six people. The only entertainment is the downloaded music on her cell phone.
Worker Vu Thi Vinh said that on weekends female workers usually sleep, cook and then sleep again, while male workers go to bistros or coffee bars.
A slew of bistros have popped up to serve workers in front of the Tan Binh Industrial Zone.
Labor cultural houses inappropriate
Although workers said that they lacked entertainment facilities, only few of them go to district cultural houses to enjoy themselves.
The Binh Tan District Labor Cultural House covers an area of 5,000 square meters having a large 500-seat hall. The house is only 500 meters away from the workers' accommodation area.
However when asked about the cultural house, workers said that the labor cultural house activities mainly included courses in weight-lifting, kung fu, foreign language and information technology.
To attend these courses, workers have to pay a lot of money besides most of them only want to relax after work. Besides, the Binh Chanh Labor Cultural House is in an inconvenient location. The district has two industrial zones at Vinh Loc A Commune and Le Minh Xuan Commune but the cultural house is 10 kilometers far from there.
Thu Duc District Labor Cultural House is also located far from the industrial zones. As a result, few workers are keen to attend its activities.
On the other hand, the labor cultural houses are running independently. Hence, activities in these houses do not suit the workers needs besides being very expensive. The houses are often let out for weddings, conferences or even motorcycle parking.
The labor cultural house in District 7 is located in an area where many workers live but it has only information technology courses and classes for university entrance examinations.
An official at the cultural house said that Ho Chi Minh City has spent VND4-8billion (US$380,000) for constructing each labor cultural house; however, authorities have not set any regulations on the operations of these houses.