Representatives from several districts in Ho Chi Minh City are of the view that the city's environment protection programme has not been effective as it has faced many obstacles that have rendered the anti-pollution measures redundant.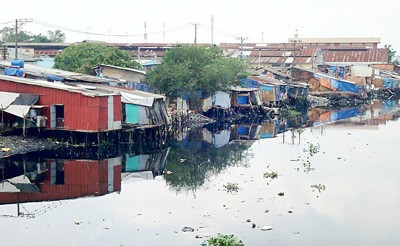 The polluted Tan Hoa-Lo Gom Canal in HCMC is undergoing a clean-up operation (Photo: SGGP)
The representatives were expressing their views at a meeting chaired by Nguyen Huu Tin, deputy chairman of the HCMC People's Committee, to review one year of the city's environment programme for the period 2011-2015.
The District 7 representative said that it is difficult to tackle polluting factories, most of which are small scale and their owners are in the low income group. The district does not have enough funds to support them if it shuts down their units.

Huynh Cong Hung, a delegate from the HCMC People's Council, said that there are problems in licensing businesses and presented evidence, which was a copy of a licence granted to a business having no specific address.
Several businesses have been permitted to operate in residential areas but in fact they do not operate themselves but sub-let to other companies, who make no effort to check pollution, he said.
Besides, garbage and waste matter is not transported straight away after collection, and hence continues to pollute the surrounding area.
Most canals are now choked with garbage. The main culprits being businesses that have not been strictly handled as there is an overlap of responsibilities of district and department authorities.
At the conclusion of the meeting, Mr. Tin said that environment pollution has not been effectively handled in HCMC due to loopholes in punishing polluters.
He tasked the Departments of Natural Resources and Environment, Justice, Planning and Investment to draft regulations to tackle businesses that are polluting the environment.
He instructed districts to report of problems that are preventing and stopping the dumping of garbage into rivers and canals. The districts have also been asked to submit their proposals to the People's Committee within one month, suggesting innovative ways to tackle pollution and protect the environment.