Ho Chi Minh City Association on Marine Science, Technology and Economy (referred as Sea Association) Friday issued a declaration supporting the Vietnam's Law of the Sea and protesting over China's actions causing tension in the East Sea.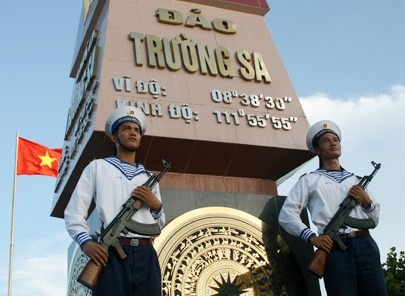 Vietnamese Navy soldiers guard Spratly Island in Vietnam's Spratly archipelagoes
The declaration said that The Sea Association strongly protested over China's establishment of Sansha city including two Vietnam's Paracel and Spratly archipelagoes.
The declaration also strongly opposed the subsequent actions of China's upgrading of the administrative level of Sansha city and establishment of a new military garrison there covering the two Vietnam's archipelagoes and sending nine thousand fishing vessels to the East Sea, disturbing peaceful life of Vietnam and Philippines' fishermen.
It strongly condemned the state-backed China National Offshore Oil Corporation was seeking bids for oil exploration in Vietnam's own sovereign waters.
Chinese Government's actions run counter to foundational regulations on resolve sea issues signed by the Vietnamese and Chinese Governments in October 2011 and damage traditional friendship between the Vietnamese people and Chinese people, said the declarations.
In the declaration the association urged China to respect and implement the declaration on the conduct of parties in the South China Sea (the East Sea)
The association reaffirmed Vietnam National Assembly's approval of the Vietnam's Law of the Sea was an action meeting aspirations of the Vietnamese people including those who live abroad.
The law is in accordance with the UN Convention on the Law of the Sea (UNCLOS), with international laws and practice and with Vietnamese history of possessing Spratly and Paracel archipelagoes, added the declaration.