Soldiers who graduated form colleges or vocational training centers in HCMC are considered "intellectual soldiers" by their peers and are highly revered.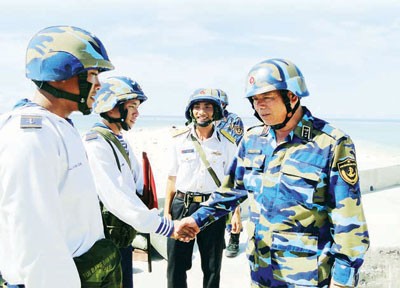 Navy Admiral Pham Ngoc Minh greets soldiers in Sinh Ton Dong Island (Photo: SGGP)
Private First Class Soldier Luu Vinh Nhat Trieu from Binh Tan District, stationed in Truong Sa (Spratly) Island, is now considered an outstanding soldier due to his leadership in youth communist union and youth movements. 
He joined the army in 2013.
Young actors and dancers accompanying with the Generals of the Vietnamese Armed Forces to the island were surprised by Trieu's ability to perform hip-hop style dance.
Private First Class Soldier Nguyen Quoc Binh graduated from College of Electricity in HCMC and was able to use his skills to repair electrical systems on the island.
"He is extremely good at repairing machines and other items we use daily," said fellow soldier Nguyen Van Thuong.
Private First Class Soldier Tran Cong Tu transformed after being stationed on Son Ca Island for a year.  He eventually rose to become a member of the People's Committee.  During initiation ceremony, he was honored to be in the top 50 exemplary persons.  Others in this category are outstanding representatives and residents.
Six young men from HCMC have been honored as outstanding soldiers on Song Tu Tay Island. 
My father, also a navy soldier, inspired me to overcome traditional living situations on the island, said First Class Soldier Do Ngoc Thuy.